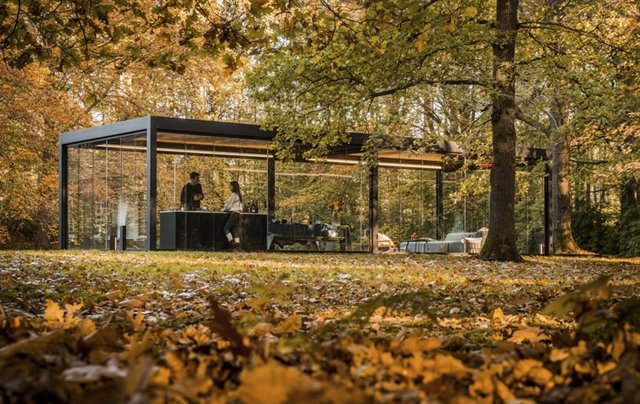 Spring, summer, autumn, and winter: each season brings a unique, fresh breeze to your garden. But to fully enjoy it, you probably don't want to sit in that fresh breeze all the time. However, things like chatting, aperitifs, or even working from home in the garden don't need to be limited to summer. After all, among the many assets of a modern garden room is that you can enjoy your garden all year round. Regardless of the weather! Can't wait to set one up in your garden yourself? Then you'll probably want to know what budget to keep in mind. How much does a garden room cost? That's easier asked than answered! This is because the price of a garden room depends on several factors. We'll find out why together!
WHAT DETERMINES THE PRICE OF A GARDEN ROOM?
Not all garden rooms are equal. So, there's no single answer to the question, "how much does a garden room cost?"… Since the perfect garden room is bespoke, its price depends on the choices you make. Both the choice of materials and the desired options for finishing your garden room will influence the final price tag.

For example, the basic Renson® Algarve and Renson® Camargue® models are available from €18,000 and €20,000, respectively. These prices vary according to the options chosen, side elements, installation costs, etc.

No idea what exists or can be done? Fortunately, there is a free tool available online to help you sketch out your ideal garden room. The tool starts from a basic pergola with customisable dimensions and to which you can add numerous elements in the following steps. Super handy to get a view of what is possible, visualise it, and save it.

TIP: want to start using the online configurator to put together your dream garden room? Then get on your PC or laptop, as a small smartphone screen is less suitable for consulting the configurator.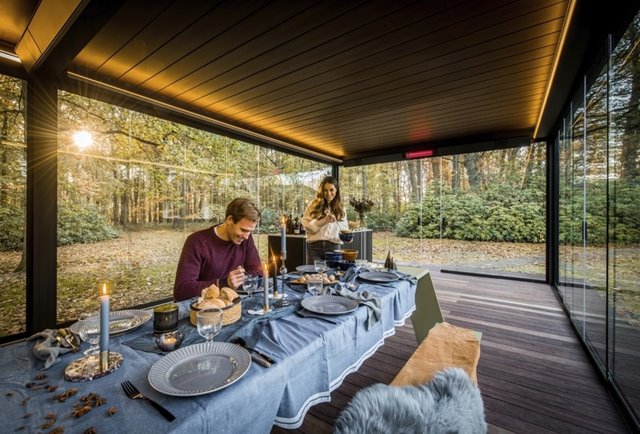 HOW BIG CAN YOUR GARDEN ROOM BE?
Let's start at the beginning: the size. A nice average is 20 m². Although you might as well opt for one of 10 m² or one over 25 m². It is also perfectly possible to connect different parts into a larger whole. In other words: anything goes! So think carefully beforehand about the function of your garden room. Or about the number of visitors you would like to host in it. A good rule of thumb is that, in principle, you do not need planning permission for a garden room of up to 40 m². That means you also save some additional costs you would normally incur to complete your file and submit it to the municipality. All together, that could quickly add up to around 1,000 euros. Do check local regulations carefully beforehand, as (local) exceptions confirm the rule.

And as for the size of your dream garden room – does the price of the garden room increase proportionally with the size? No… As mentioned earlier, you have to look at the sum of the parts. A first decisive factor is the choice of materials.
WHAT IS THE PRICE OF GARDEN ROOM MATERIALS?
Wood is a lot cheaper than aluminium. Perhaps you've already made a comparison before. For example, when choosing window frames for your home. If so, you would have found that aluminium window frames are easily up to 20% more expensive than wood ones. On the other hand, wood has a shorter lifespan than aluminium and also requires more maintenance. This includes things like oils, stains, paints, and varnishes or lacquers. Prices for such products range (approximately) from €15 to €40 per litre. So how much will your garden room cost after 20 or 30 years? You also need to take that into account if you want to get a view of the total price tag. Wood may be cheaper at first glance, but there is no denying the long-term advantages of an aluminium pergola.

You save an enormous amount on annual maintenance, both in terms of money and time. To maintain your aluminium garden room, an annual cleaning with water, an appropriate detergent, and a microfibre fabric will suffice. And your aluminium garden room will also be there longer than a wood one.
WHAT OPTIONS ARE POSSIBLE?
There are plenty of extras to add to the basic structure in order to turn a pergola into a true garden room. Just think of side elements to sit sheltered from wind or even from potential prying eyes. For the side elements, you can choose between:
FIXSCREENS: aesthetic and functional blinds for pergolas! Different options in terms of transparency.

SLIDING PANELS: possible with solar-powered screens or with tilting or non-tilting wood or aluminium blades.

GLASS SLIDING PANELS: versatile applications. Ideal for reducing the boundary between outside and inside. Can be extended with sun protection.

FIXED WALL: physical, decorative wall with vertical or horizontal design. Can be seamlessly integrated into the existing construction.

OUTDOOR CURTAINS: Can be combined with screen or glass sliding panel. Exudes romance and is weatherproof.
How much does a garden room wall cost? Of course, again you have to consider size and so on, but outdoor curtains come out cheapest. Fixed walls and glass panels are more expensive, but indispensable if you want to decorate your garden room as a cosy lounge where you can have an aperitif even in the winter.
WHICH OPTIONS OFFER EVEN MORE COMFORT?
sensor, rain sensor, sun sensor, or a combined sun and wind sensor allow you to keep on doing what you are doing. The roof or walls close themselves when the weather takes a turn for the worse. Want to be able to 'live' in your garden room? Then you should budget some much-needed extras into the overall price of the garden room. This could include the following:
LIGHTING: LED lighting for atmosphere or for good visibility and readability. Different types of white and other colours possible.
Does the electricity still need to be extended to a freestanding pergola? Then keep this in mind when budgeting. Also remember that the bigger your garden room is, the more you will need to heat it if you use it as an extra living space outside summer.
HOW MUCH DOES IT COST TO INSTALL A GARDEN ROOM?
Have you determined the size? Selected the base material and all your options? Then let's pause to consider the installation of the garden room. Installing a garden room is specialised work and must preferably be done by professionals. This is the only way you can be sure of a beautiful end result. For an average wood or aluminium garden room, allow for one to two days' work, to be carried out by a minimum of two professionals.

TIP: Find a dealer near you to save on transport costs. In any case, you will find an expert from Renson® in your area, ready to advise and assist you. So don't put off those plans for that garden room any longer and contact a dealer right away.