A pergola lets you stretch out your summer and add a multifunctional outdoor space to your home. There are many systems on the market, both in terms of design and materials. Which one is the best match for you? A wood or an aluminium pergola? We list the pros and cons of both systems.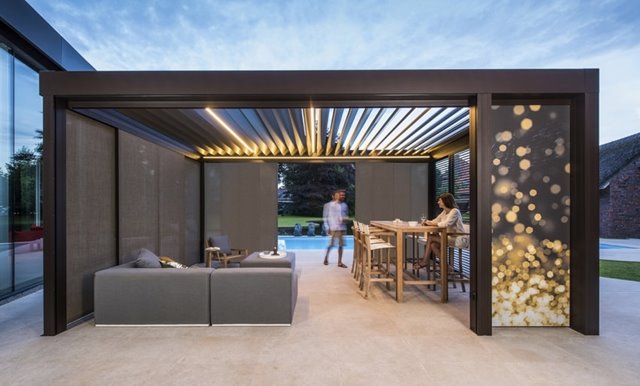 Outdoor living is in. You probably spend a lot of your time indoors, too. With a pergola, you are guaranteed to spend more time outside, in the fresh air and greenery. This is because it allows you to create an extra spot of shade, sit outside but still sheltered from the rain, and add elements and tech that you consider important. Although everything starts with the basic structure, of course.

And then the first choice is the suitable material in which you want (or want to have) your 'outdoor living space' to be built. Wood and aluminium are then two common materials. But what are the pros and cons of both and how do you make the best choice? Read all about it here.
THE PROS AND CONS OF AN ALUMINIUM PERGOLA

Aluminium is a sustainable material in terms of both longevity and circularity: the material is 100% recyclable and ironclad. Moreover, you can count on a sleek and modern result.
Minimum maintenance, maximum enjoyment

Opting for an aluminium pergola is immediately choosing ease of maintenance. Cleaning it once or twice a year using the products from the Renson® Maintenance Set preserves the intense colours and provides extra protection against acid rain, UV rays, and sea air. In between, the rain regularly washes your cover clean, without damaging the material. A free cleaning from Mother Nature. This will leave you with more time to just enjoy yourself.
Elegant lightweight

Besides being very durable, aluminium is also lightweight. As a result, you don't need many supports, even for a large structure. The limited number of uprights allows maximum light and sense of space to be preserved. Exactly what you want from your outdoor space.
Heat-resistant

An aluminium pergola makes your summer longer, but, of course, you'll also want to enjoy your garden during the sunny season. Good news: aluminium is highly resistant to heat and blocks UV radiation. So you keep a cool head, while enjoying carefree fun outside.
What does an aluminium pergola cost?

Aluminium is a slightly more expensive material. However, an aluminium pergola is an investment in your health and your future. You definitely don't want to skimp on quality there.
THE PROS AND CONS OF A WOOD COVER

Nothing beats the charm of wood. This material creates an instant homey cosiness. From natural or rustic for a rural look to coloured and powder coated for a modern look.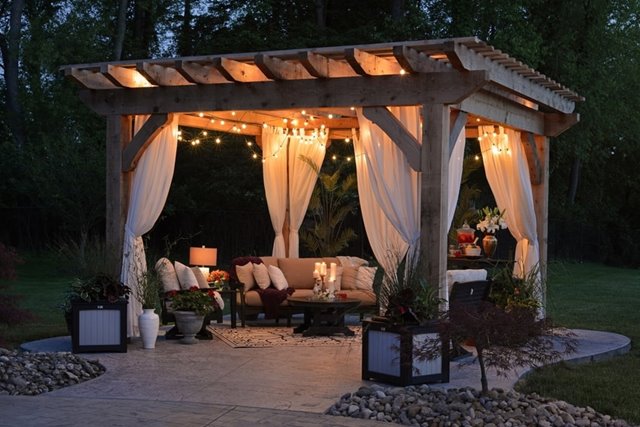 For every style

There are a lot of wood types, textures, and colours. This allows for a suitable wood pergola for every lifestyle and architectural preference. You're sure to find a good match in the wide range of wood options.
Intensive maintenance for a long service life

Compared to an aluminium pergola, a wood one requires considerably more maintenance. To keep the wood in optimal condition, it is best to reapply a protective coating regularly. This will prevent weak spots in the wood or damage to your structure. Moreover, untreated wood undergoes a natural ageing process. Want to maintain the colour of your pergola? Then treat your wood cover regularly and correctly. Or opt for an aluminium one.
Weather impact

Wood is more susceptible to weather conditions than aluminium. Keep in mind that your wood cover may be discoloured by the sun and, in extreme heat, may even warp or crack a little. If the wood is not treated correctly, the paint may even peel off. And that, of course, would be a shame.
What is the best wood for a cover?

Are you considering a wood pergola? Then it is best to choose hardwood. This wood has natural durability and lasts 25 to 30 years. However, it is more expensive than soft woods such as pine or fir. These types of wood do not last as long due to their softness, although they are treated (impregnated) in a way that significantly extends their lifespan for specific outdoor applications. Always seek advice from a professional.
THE BEST OF BOTH WORLDS

Is choosing really losing? It doesn't have to be. At Renson®, you can effortlessly combine the best of both materials. Our aluminium pergolas require minimal maintenance and can withstand all seasons without any problems. Moreover, if you wish, you can easily add the charm of wood to your aluminium pergola. You can do that, for example, using
Sliding panels with cedar blades integrated into the structure of your cover, to shield you from the wind or sun, or as a privacy element.

Aluminium roof blades with wooddesign look: finished with a high-quality 'wood-look' film, so that the blades look like real wood elements in the roof of your cover.

…
Wondering what your ideal pergola looks like? Your Renson® specialist will gladly put a proposal together for and with you.