Façade cladding prices
When you're buying something, the price you're about to pay plays a major role, of course. The same applies to façade cladding. As such, it will come as no surprise that "What's the price of façade cladding?" and "How much does façade cladding cost?" are some of the most common questions we get asked. The answer to those questions is not as straightforward as you might think, as many of our projects require customisation. On top of that, the price of façade cladding strongly depends on a range of factors. On this page, we'll tell you more about all the things that need to be considered when we set our prices.
Which factors have an impact on the price of façade cladding?
The price of façade cladding is strongly dependent on a whole range of factors. Here, we'll tell you more about all the things that need to be considered when we set our prices.
Façade cladding type
Choosing the right type of Renson aluminium façade cladding for your situation starts with the lines: do you prefer them to run horizontally or vertically? If you're looking for horizontal façade cladding, Linius is the best choice. If vertical façade cladding is more your thing, we've got that too in our Linarte range.
Dimensions
The main factor in determining the price is the surface area you are looking to cover, together with the number of corners and borders within that area. A flat, continuous wall will be cheaper than if the same wall has several windows, doors and/or gates that need a border finish.
In principle, there is no limit to the possible dimensions of our bladed walls. The one thing that does need to be considered is that our blades have a maximum profile length of six metres. If you want to go taller or wider than that six metres, there will always be a break in the lines (where one blade runs into the next).
Façade cladding material
A Renson bladed wall consists out of aluminium profiles that can be installed quickly onto a supporting structure thanks to our clip system.
Our Linius or Linarte blades are made of durable aluminium that can be fully and endlessly recycled. Aluminium is a material that is easy to maintain, wear-resistant, weather-resistant and lightweight. On top of that, using aluminium makes it possible to powder coat your metal blades to a color of your choice.
Extra options
Our Linarte (vertical) façade cladding is endlessly customisable. Aside from a powder coated color of your choice, you can also fit integrated LED lighting, wood inserts or a house number to your wall. More functional options such as taps, plug sockets, a video doorbell, door handles and so on can also be integrated easily and aesthetically.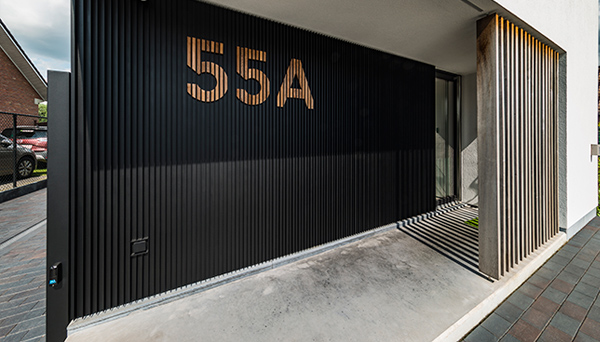 Cost of façade cladding installation
Aside from the price of your façade cladding itself, the cost of its installation also needs to be considered, of course. Once again, the cost of installation depends on a range of factors: the installation of the supporting structure, whether or not the profiles need to be cut to size on location, the composition of the wall, seamless functional integrations and so on. On top of that, for the installation of its products, Renson works with a global network of over 1,800 distributors and (Premium) Ambassadors, who do not charge fixed prices. In other words, the cost of installation can vary from project to project and from distributor to distributor.
Why choose Renson façade cladding?
Renson has paid a great deal of attention to the design, customization and quality of the finish when developing its sleek and modern façade cladding. Linarte and Linius enable you to create a wall or façade that is entirely custom to you, and that perfectly suits your needs. That wide range of options to choose from and the endless possible combinations result in façade cladding that is unique to you.
Find a dealer near you
Looking to incorporate functional and aesthetic façade cladding in your project? Find a Renson distributor near you