Always fresh air and protection from the sun at French Saint Joseph School thanks to Renson Fixvent
The well-being of the children was a top priority when building a new school in La Tour du Pin, France. A good supply of fresh air with plenty of oxygen was a requirement for the classrooms. But the increased risk of overheating in the sunny south of France meant that outdoor sun protection was also a concern. With the Fixvent, Renson addresses both of these issues with a single product on the window: windproof sun protection fabric and a ventilation grille. This ensures that over 400 students at Saint Joseph School have fresh air and a comfortable temperature in their classrooms, allowing them to focus on their studies.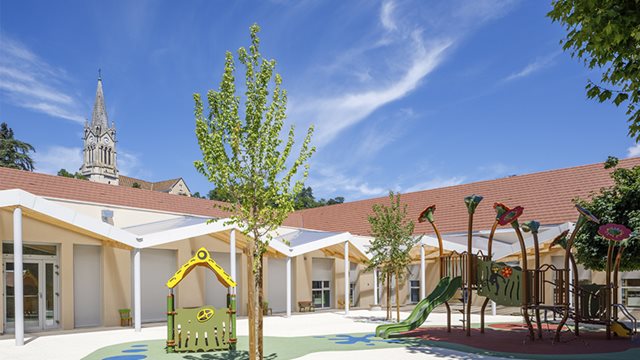 Oxygen for the brain
Director Jean-Baptiste Durand, who has previous experience of constructing schools, explains: 'I have previously been involved in the building of two schools, but it was clear from the initial design here that we were committed to a future-oriented and ecological project, fully focused on the children and their well-being and learning process.'
Project manager Christophe Meguer agrees and explains at the same time how this is reflected in the building: 'Fresh air in the classrooms was high on our wish list. Not only because it helps students to concentrate, but also because the Covid pandemic has painfully underlined the importance of fresh indoor air for our health.' Bruno Contal from Cotib engineering firm examined the ventilation options: 'Traditional D-ventilation systems are often chosen for schools, we but opted for a combination of a variable air volume ventilation unit – controlled by sensors – and a customised automatic control system. This avoids the need for frequent filter replacements. And, of course, we also had to provide window ventilation grilles to bring in oxygen-rich air from outdoors.'
Heat hazard
With large windows on the south façade of the school, the risk of overheating in the classrooms was a concern in the sometimes tropical climate of southern France. The project manager and engineering firm took this into account as well. Meguer explains: 'Sun protection glass was our first choice to anticipate overheating, but in combination with outdoor sun protection. This ensures the rays of sun are blocked before they can penetrate the glass. The sun protection glass also means that the screens do not need to be permanently lowered.'
'Screens are also useful for preventing glare,' adds Durand from his experience. 'We use a lot of digital whiteboards nowadays, which are essentially large screens that become unreadable when the sun shines directly on them. With our sun protection fabric, we can now control the amount of light entering the classrooms.'
Combination in Fixvent
Ensuring fresh air, sun protection and insect prevention were the three requirements for which the engineering firm found a solution in a single Renson product. 'The Fixvent meant we could achieve all three goals at once,' says Contal. 'It combines windproof and insect-repellent Fixscreen sun protection fabric with an aesthetically pleasing window ventilation grille. And, where we wanted protection from the sun without the need for a window grille, we naturally opted for Fixscreen sun protection on its own.
Intelligence through sensors
'With the windows open, and the screens lowered for sun and insect protection, we can refresh the air volume in a classroom 3.5 times per hour,' says Meguer. He is also proud of the integrated sensors: 'We monitor and manage the indoor air quality ourselves with CO2 sensors in the classrooms. We set the critical threshold between 800 and 900 parts per million (ppm) because it is known that children may experience drowsiness and risk falling asleep when the CO2 concentration exceeds 1000 ppm. If this threshold is crossed, the ventilation system automatically receives a signal from the sensors to increase the airflow and extract the polluted indoor air. With the ventilation grilles open on top of the windows, each classroom is directly supplied with fresh outdoor air in good time.'
'We have also connected temperature sensors,' adds Contal from the engineering firm. 'As soon as the outside temperature drops sufficiently on hot days, the ventilation level increases again, allowing more cooler outdoor air to enter through the Fixvents. This cools down the classrooms naturally (often at night) for free.'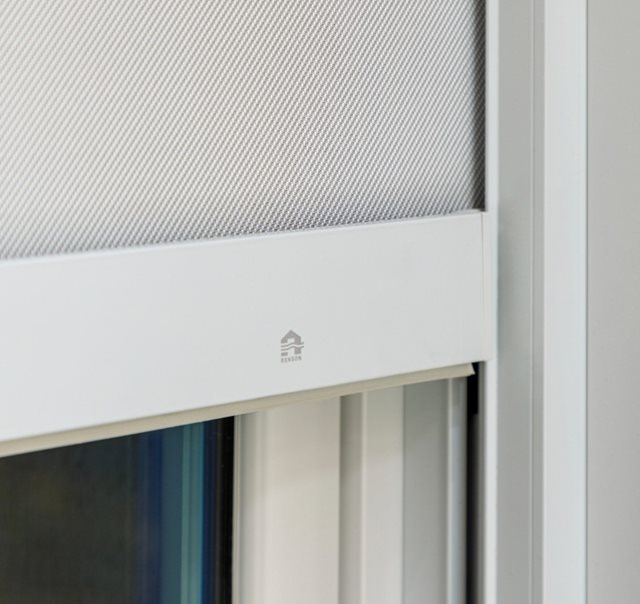 Aesthetics
The school is very pleased with the result. Director Durand also made sure to combine practicality with the necessary aesthetics: 'We took our time to choose the right sun protection fabric and colours. No excessively bright colours, so that the screens match the window frames and the façade. And, fortunately, Renson screens are available in all possible RAL colours. We also chose blackout fabric for the dormitory, which allows the luminous elements we hung up for our "Le Petit Prince" project to really stand out. But the main reason, of course, is to provide a sufficiently dark space for the toddlers to have a nap.'