Wood, Vinyl, or Aluminum: Which Pergola Is Best For You?
Adding a pergola to your outdoor space can be a decision that sticks with you for a long time. When comparing wood vs vinyl vs aluminum pergolas, it is best to weigh all of the pros and cons of each before making your final decision.
The key factors to consider when comparing pergola materials is the maintenance and upkeep involved, the likely longevity of the material over time in conjunction with the upfront cost, and (of course) the overall style, benefits and look of the product.
With a wooden pergola, often confused with a gazebo, you will typically have the option to choose between either cedar or another kind of wood that has been pressure treated. Although the pressure treatment is used to help softer woods resist rot, mold, and bugs, they are still more susceptible to these issues than cedar and the other synthetic material options. With proper, regular maintenance, wood pergolas can last as long as vinyl or aluminum, though they do run a much higher risk of being ruined prematurely. For this reason, pressure treated wood is the lowest on the list for longevity. However, it is also often lowest on the price list as well, so your upfront cost could be much lower.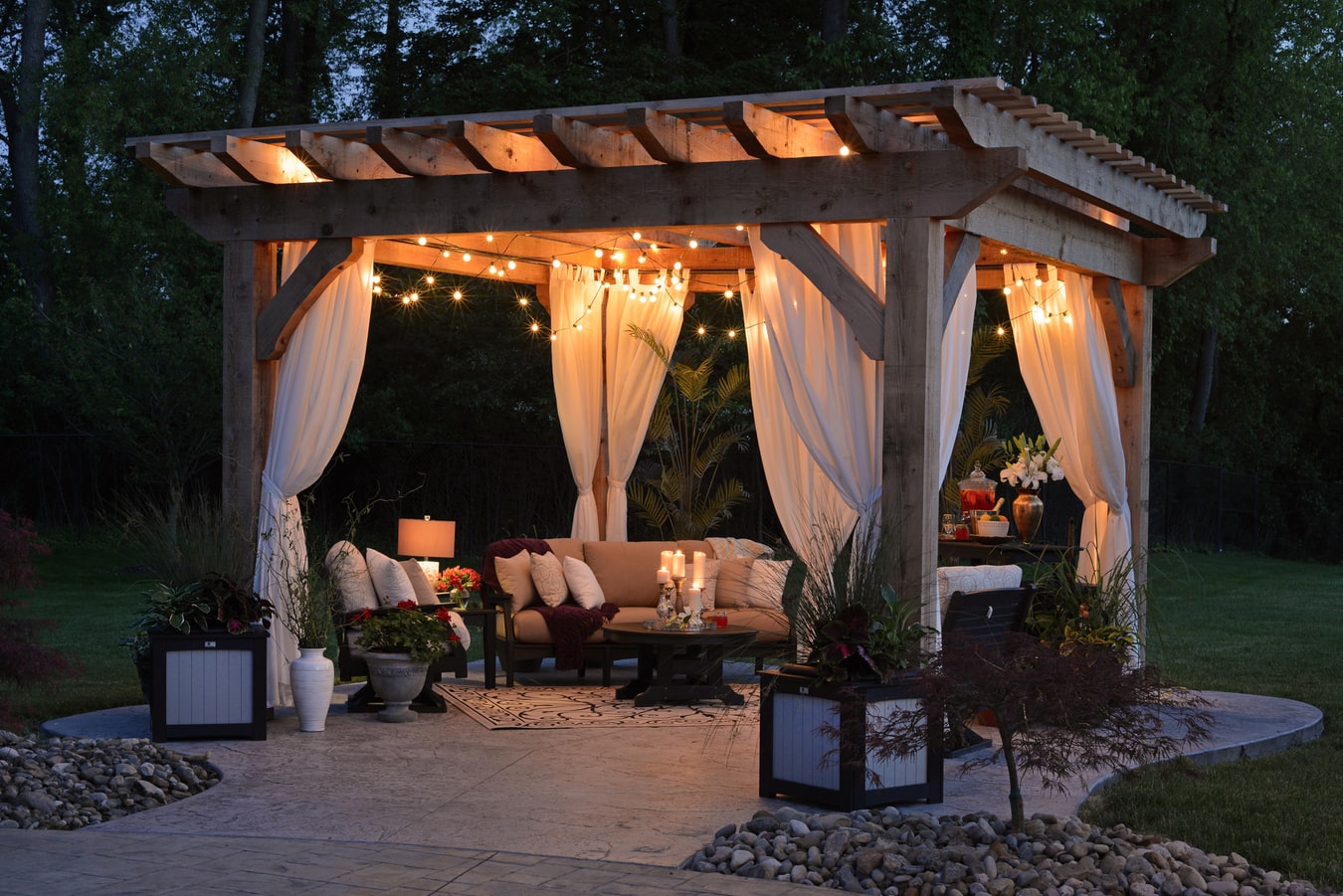 Cedar offers a unique appeal as a material for an outdoor living space not only because of its distinct reddish color, but because of the natural aroma of the wood; choosing a cedar pergola not only offers a particular visual aesthetic, it also provides an appealing scent as you take a breath of fresh air and enjoy your outdoor space.

Pressure treated wood can be painted or stained in a variety of colors, offering greater versatility over cedar (which cannot be painted but must be stained periodically). If you are comparing cedar vs pressure treated pergolas, cedar is the more common choice unless you are intent on a particular color option or are looking for a lower price point.

Overall, wood pergola kits can be among the most cost effective of available options and can add a rustic or casual appeal to your backyard.
In comparison to wood, a vinyl pergola will last a lifetime with minimal maintenance requirements; typically, an annual power wash is more than sufficient to preserve their color and appearance. However, if you live in an area with heavy snowfall, they may be less sturdy than either wood or aluminum when weighed down by snow. They also might be cheaper looking than an aluminum pergola.

Often coming in bright white or beige colors, they offer a more formal look in comparison to natural or painted wood. If you are set on a vinyl pergola for one reason or another but also want a more unique color, it is possible to paint the vinyl with an acrylic paint that is more to your liking. However, this may increase your maintenance requirements for both cleaning and touching up paint over time.

Wooden & vinyl pergolas have a fixed roof, which is partially open or totally closed. This means you will not be able to control the amount of sunlight you get, and you might not be protected from rain & humidity at all times. Some of the most sophisticated aluminum pergolas have louvered roofs, with blades that rotate, open and close for optimum daylight control. If you're looking for a pergola to benefit from all year round, aluminum pergolas might be the best option for you.
With a sturdy metal frame, an aluminum pergola can offer the stability of a wooden structure with a clean elegance, and completely custumizable with accessories. Also long lasting and almost maintenance free, your aluminum pergola is sure to last through a lifetime of both rain and shine. If you're looking for good quality, you will want to choose for an aluminum pergola.

Aluminum also offers a color palette that is a bit wider in comparison to vinyl pergolas, which are nearly always stark white. Textured coating options mean that your aluminum pergola could be made to match your home or existing outdoor structures. Since aluminum pergolas are powder coated, the paint will last forever. Overall, the sleek look of an aluminum pergola has a distinctly modern appeal.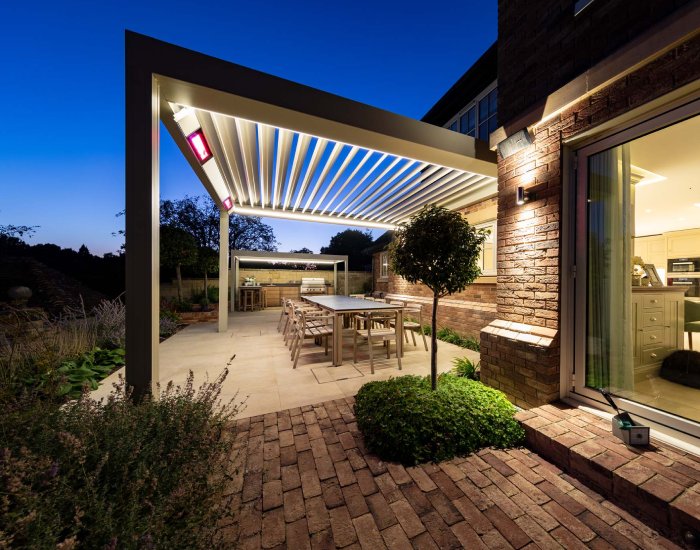 Both vinyl and aluminum pergolas are likely to cost more than a typical wood pergola, though the price difference between the two really depends directly upon the quality, size, and style of the pergola you have picked out.
Aluminum vs Vinyl vs Wood -- Which is Best for You?
When making the decision for what kind of material you want your pergola to be made out of, it is best to do your thinking outside.

Standing in your current outdoor space, how can you see the aesthetics best enhanced? Perhaps you are envisioning a particular color or a modern (or rustic) vibe. Maybe you can even vividly imagine the scent of cedar wafting towards you?

It is important to imagine yourself not only utilizing the space for fun, but performing routine maintenance as well. Try to be as realistic as possible. Although you may have great visions of spending a weekend every two years sanding and restaining your beloved wooden pergola, if your summer schedule is often hectic and crammed already, you might find yourself slacking on this necessary upkeep that may vastly shorten the longevity of your investment. If a quick pressure wash every now and then is more your style, you will do well to go with vinyl or aluminum. If you're looking for good quality and something more sophisticated which you can entirely customize, aluminum pergolas are made for you.

In the end, whichever pergola you choose is likely to become a permanent addition to your home, so you should make sure that you are completely content with your decision before moving forward with the project.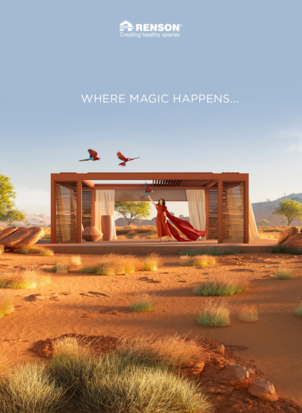 Request your inspiration brochure
Be inspired by our numerous successful projects and discover the various models and all the options. Download the digital brochure here!
request brochure