Fall brings with it a change in natural landscape that makes it a great time to host parties! Most homeowners will be organizing festivities this season. You can quickly transform your outdoor areas in preparation for all the celebrations you have lined up this fall. With the brilliant colors come unpredictable weather too. If you're having a party, the sun pouring in and the occasional rain can become a cause for concern. You cannot keep your guests entertained under such circumstances. You need to design your outdoor living space in a way that works and exudes some beauty and class at the same time. Investing in a
pergola
is your best bet. Even better, you can choose the smart pergola for more ease and an awe-inspiring space that adds to the fun.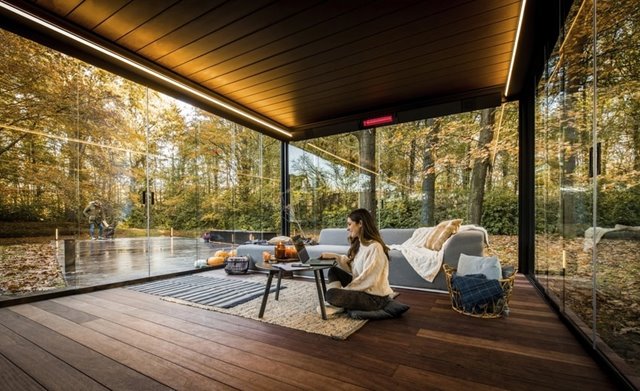 With the right design, you can retain warmth in your space while still enjoying the outdoors. Here's how a pergola can make fall even better.
Designing the Perfect Outdoor Space
Pergolas can transform your outdoor space into an extension of your home allowing for a blend of the interior and exterior of your property. They help create additional space that can be used for relaxing or during fall: for festivities! You can host a group of friends in your outdoor living area if you have a pergola installed. The pergola could either be attached to your house or it could be freestanding. You can place your pergola around your front yard or in your backyard or garden. It's a good idea to stand outside your house and evaluate which space would best fit your desired pergola. Pergolas can transform your space and make your outdoor living area beautiful. They are also super functional as they can serve as extra room or storage when you need more space.
Choosing a Pergola that's Perfect for your Space
Pergolas were traditionally made of wood or vinyl but modern pergolas are made of aluminum. While the other options cost less, the aluminum pergola provides better shade and is more durable. Aluminum pergolas can also come with smart technology that enables you to operate them through a connected device such as a smartphone or multipurpose remote. With the smart pergola, you can open and close loggia doors and louvres using your device. The smart pergola also has product sensors that respond automatically to changes in weather. Whether it's sunny, windy, or rainy, the smart pergola can immediately adjust your outdoor space for comfort. This is an asset for when you are hosting guests. With fall here, this is a very useful feature. But then again, what you get out of your pergola depends on the design that you choose. Pergolas are great for their highly customizable features. The pergolas built by Renson Outdoor come with wide opportunities for you to personalize your experience. You can choose what features should be included in your aluminum pergola from a vast number of options.
Transform Your Space for your Outdoor Fall Activities
As fall approaches, you start to think more about the outdoors. It's heralding a time when you will be having lots of celebrations. It's only reasonable that you prepare your home for this. Your outdoor space is a key part of what your fall festivities will be. Not only do you want a space that you will be able to enjoy, you want it to be gorgeous as well. Pergolas from Renson Outdoor come with a sleek design that will add instant shine to your moments. The pergolas are wide enough to carry an ideal number of people. You don't have to squeeze your guests into a small space. You can design your pergola to blend in with your landscaping and the theme of your home. You can even show off your personality by choosing how it all looks. Your pergola can serve many different purposes from family time with your kids to outdoor viewing and parties. As trees begin to shed their leaves at fall, a pergola would ensure they don't mess up your designated space. Instead, you get to watch them from your shade. The smart pergola allows you to add heating features as well so that your space provides warmth while you are outside. Other options available for Renson Outdoor aluminum pergolas include LED lighting, solar shading, and more.
Why Go for the Smart-Enabled Pergola?
The Renson Outdoor Camargue Skye pergola comes with a double rotation feature and sliding technology that takes your experience to a whole new level. Similarly, the Algarve Canvas pergola has a tautly stretched ceiling that has integrated Fixscreen technology allowing you to enjoy your space as much as possible. With this technology merged with the other features of the smart pergola, they are a must try. They add more ease and flexibility to using your space. Not only is the aluminum pergola an improvement to what was possible traditionally, the smart-enabled pergola rejuvenates your outdoor space and gives it a chilling vibe. For most people, opting for a pergola easily makes that space the most lovable part of their home.

The smart-enabled pergola from Renson Outdoor comes in a sleek minimalist design, is durable so that you can use it for years to come, and is functional. The pergola brings a beauty to your outdoor space that can make fall memorable for you and your guests. Check out the range of smart-enabled pergolas you can choose from or discuss your options with our professionals.