Fixed roof pergola
Custom fixed roof pergola
If you have no need for a retractable roof, A pergola with a fixed roof offers a whole host of benefits. A fixed roof is robust, stylish and customisable, thanks to the various materials and pergola models available. Explore the possibilities for your custom fixed roof pergola.
Fixed roof pergola for optimal protection
Rain, falling leaves or twigs: your fixed intercepts them all and keeps them out of your garden room. It also blocks UV radiation, and your interior will thank you for that. If you have an outdoor kitchen, a sofa in a bold accent colour or a rustic wooden table under your pergola, they will be fully protected, all year round.
Superior quality
Our products are developed with an eye for design, durability and quality.
Minimalist design
Visual simplicity adorns and retains the focus on the architectural feats of your design.
Extensive customisation options
Modular product design and a wide range of options serve as the building blocks for your unique pergola.
Ease of use and maintenance
Minimal maintenance and maximum enjoyment of your garden room, year after year.
What is a pergola with a fixed roof?
In this type of pergola, the roof cannot slide open or shut. There are no rotating or sliding elements. However, that does not mean you do not have any flexibility: by adding sliding walls, for example, you can decide at any time just how much sun and wind to let into your pergola.
Endless combinations with our side elements
Transparent glass, warm wood or homely curtains: with our wide range of side elements, you can quickly and easily add style and functionality to your pergola.
Fixed panels, sliding walls or louvres? Go for a uniform overall appearance or mix and max as you wish with: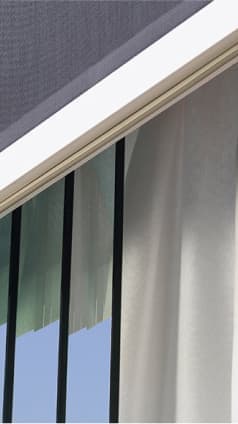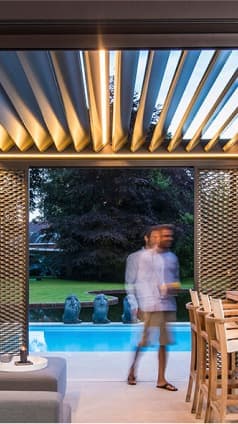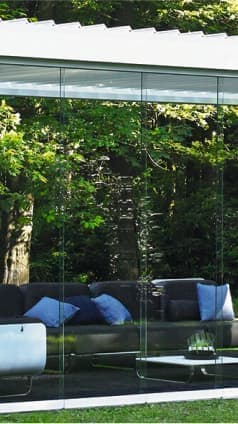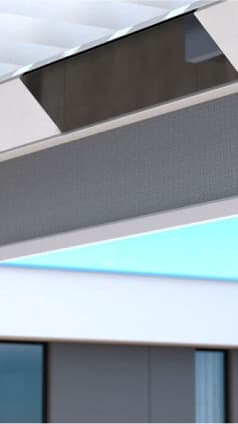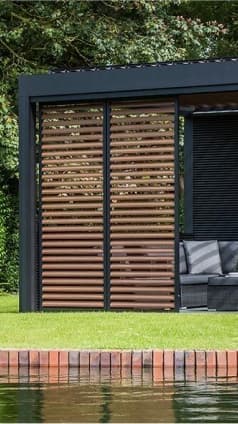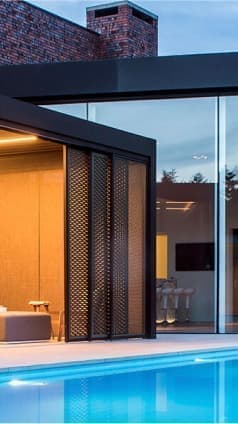 Extra accessories for your outdoor experience
Pleasant temperatures, your favourite music in the background and LED lighting to set just the right mood: these are just a few of the possibilities for your freestanding pergola. Simply add the right accessories to help realise your plans for your new outdoor space. The vast range of available options includes:

The benefits of a fixed roof pergola
The robustness of a fixed structure and the distinctive touch of your choice of material and finish: that is the ideal combination a fixed roof offers for your pergola. In fact, a fixed roof brings with it a range of interesting benefits:
A fixed roof offers maximum protection against outside influences on both you and your interior, whether that's rain, hail or sun.
Cleaning and maintaining a flat roof takes no time at all. The sealed surface leaves no spaces for dirt to accumulate, which makes cleaning your pergola a whole lot easier.


A pergola with a fixed roof, or with a louvered roof?
Rotating and sliding louvres roof, or a fixed roof with the soft appearance of a fabric stretch ceiling? Personal preference plays a significant role in choosing between these two types. Your local Renson Ambassador will be happy to advise. In the meantime, we have drawn up a comparison below to help you towards making a choice.
Fixed roof
Horizontal roof structure

Lean-to, integrated or freestanding

Joinable up to 6 x 6 m without an additional column, including when combined with a louvered section

No control over natural light

Stretch ceiling fabric available in eight colours

Can be sealed off using a wide range of side elements

Surface-mounted side screens

Lighting possible in the frame

Windproof up to 120 km/h
Horizontal roof structure

Lean-to, integrated or freestanding

Endlessly joinable by using additional columns

Natural light adjustable via louvres

More than 300 available colours for roof louvres

Can be sealed off using a wide range of side elements

Fully integrated side screens possible

Lighting possible in the roof louvres, frame and/or columns

Windproof up to 160 km/h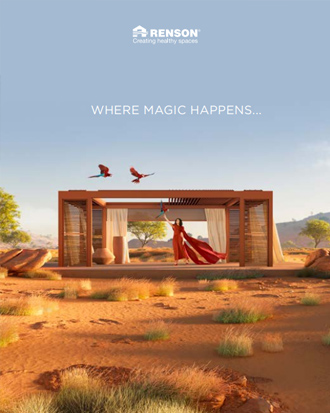 Download the inspiration brochure
Allow yourself to be inspired by the wide range of projects we have completed in our digital brochure. Find out more about the different models and accessories.
Request your brochure ›
Fixed roof pergola, 100% custom made
Just like all other models and types we offer every Renson fixed roof pergola is completely custom. You choose the dimensions, materials, colours and accessories, and we carefully put everything together for you at our in-house production facility. Open up a whole world of possibilities for your outdoor experience underneath a stylish pergola.