Outdoor horizontal blinds
Ideal for conservatories and pergolas
Verandas or skylights draw in a lot of daylight, as well as a lot of solar heat. Horizontal roller blinds are outdoor solar shading systems tailored to this challenge. They block the sunrays before they reach the glass and prevent the inside from heating up too much.
For which applications are horizontal roller blinds suitable?
Horizontal roller blinds block the sun reaching the flat or diagonal glass parts so they do not heat up when the sun is at its highest point.
These outdoor blinds can also be placed horizontally above your patio so you can also enjoy the outdoors on warm days without feeling the heat.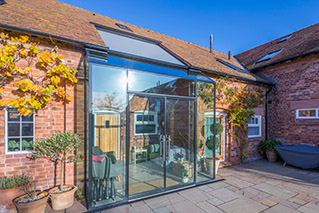 Skylights or roof domes
A series of translucent windows on the roof of a conservatory or extension.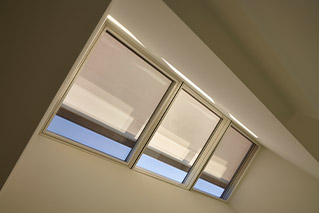 Roof windows
A window or vent in a pitched or flat roof, used to draw in extra daylight.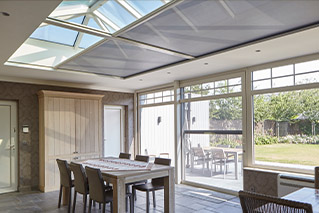 Veranda
A light-filled extension to your home, characterised by large windows.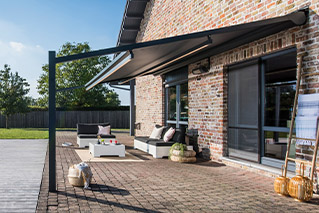 Patios
A Topfix Max or a Lapure in a freestanding arrangement, above your patio.
Different options for horizontal roller blinds
So many applications, so many solutions. In order to offer you even more efficient solar shading, Renson has developed outdoor blinds tailored to every challenge.
High-quality solar shading
Every technique and material has been carefully tested for a durable result.
For every project
New construction or renovation, horizontal or vertical, built-in or surface-mounted: a screen for every application.
Minimalist design
The sleek design and slim profiles ensures the outdoor blinds integrate optimally into the façade.
Flexible in use
Blissfully cool in the summer while ensuring maximum benefit from low sun in winter: the best of both worlds.
What are the advantages of horizontal roller blinds?
Outdoor blinds achieve their maximum efficiency on the exterior side of the glass. They block up to 90% of the heat, which makes a world of difference indoors. Horizontal roller blinds have other advantages:
Outdoor blinds protect you against the conservatory effect while you continue to enjoy maximum light.
A sun sensor can be used to keep the sun's heat out when you are not at home. If the sensor detects excessive sun, your outdoor blinds will close automatically.
This will help ensure your interior is protected against discolouration or damage from the sun's UV radiation.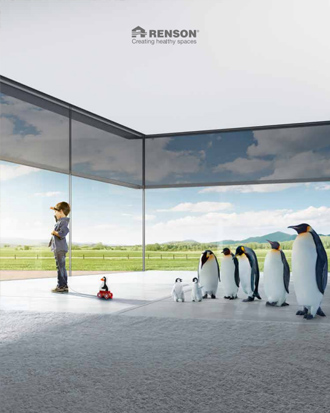 Request your brochure
Would you like to know more about how the aesthetic advantages of Renson outdoor blinds translate into a project? And what the different fabric types look like? Download the digital brochure for inspiration.
Request your brochure ›
Horizontal roller blinds from Renson®: more than 50 years of experience
Choosing Renson is to choose more than 50 years of experience in solar shading. This translates into solutions further along the development programme, where innovative technology and high-quality aesthetics find each other perfectly. You can subsequently enjoy quick installation, ease of use and efficient solar shading.
Frequently asked questions
Do you have any questions about horizontal roller blinds?
The answer may be below.
The weather can be fickle, and your outdoor blinds might get wet. No problem. Just let them dry well afterwards. And if you only notice they are wet in the middle of a rainstorm? Feel free to roll up your outdoor blinds to limit the wetness, but make sure you let them dry afterwards. To prevent stains or mould, never leave wet outdoor blinds rolled up for more than 3 days.
Renson has developed a patented guiding system that uses a zip. This makes the horizontal roller blinds wind resistant up to 120 km/h. Moreover, this unique technology ensures the screen fabric remains tight in the side guiding channels. Stylish, reliable and sturdy.
Sun protection fabric is low maintenance, and this is also true for horizontal roller blinds. Cleaning them occasionally using the Renson Maintenance set will keep your outdoor blinds in top condition. First removing loose dirt off with a brush is recommended. After cleaning, allow the screen fabric to dry thoroughly before rolling it up again. Your Renson dealer can take care of the annual maintenance.