Renson donates EUR 28 245 to Anticancer Fund

Charity backed by invitees to Renson Outdoor and NOA outdoor living opening events
Kruisem, 07/12/22 — Today, the Managing Director of the Anticancer Fund, Lydie Meheus, was given a cheque worth EUR 28 245 by Paul Renson (Renson CEO) and Catherine Degreef (NOA outdoor living). The funds in question were raised through donations by invitees to the opening events for Renson Outdoor and NOA outdoor living at the end of October, following a suggestion that they support a good cause instead of bringing a gift.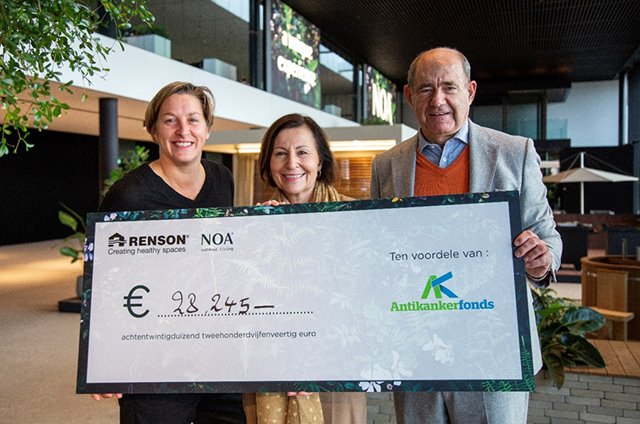 From left to right: Catherine Degreef (manager NOA Outdoor living), Lydie Meheus (managing director Anticancer Fund) & Paul Renson (CEO Renson)
Opening event gifts go to charity
Between 20 and 27 October 2022, Renson Outdoor and NOA outdoor living were officially inaugurated with a series of opening events. Both the new Renson Outdoor production hub and the unique inspiration park welcomed countless invitees between these dates, the vast majority of which keenly embraced the call to donate to a good cause. These donations eventually totalled EUR 28 245; a sum that was officially presented to the Anticancer Fund on 7 December.
Healthy living
According to Paul Renson: "Here at Renson, health is one of our top priorities. There's a reason why our baseline is 'Creating healthy spaces'. To function as best as possible, people need to be able to live healthily, preferably in harmony with nature. Our newly opened site is a textbook example of that. With that in mind, the invitations to our opening events included a suggestion — if our guests preferred — to donate to a good cause instead of bringing a gift, We are delighted that these generous donations will be supporting the fantastic work that the Anticancer Fund are doing."
Driven by patients, encouraged by donations
"The Anticancer Fund is driven by patients, guided by science and encouraged by donations", Lydie Meheus, managing director of the Anticancer Fund, comments. "As an organisation, we connect all the parties involved in the battle against cancer, so that we can achieve better outcomes more quickly. Initiatives like this one by Renson help us finance clinical research into effective and cost-efficient cancer treatments and expand My Cancer Navigator, our information service for people with cancer."
About the Anticancer Fund
The Anticancer Fund is a Belgian public utility foundation that focuses on cancer research around the globe. The fund coordinates and finances clinical studies into groundbreaking cancer treatments that fall outside of the scope of the pharmaceutical industry. The Anticancer Fund offers information to cancer patients that is grounded in science, enabling them to take carefully considered decisions in terms of their treatment. In addition, the Anticancer Fund initiates dialogue with policymakers and public authorities to impact social policy in its field. After all, the patient must come first in every regulatory decision.
www.anticancerfund.org

About Renson
'Creating Healthy Spaces' is the Renson baseline and mission. As a trendsetter in ventilation, sun protection and 'outdoor living', this dynamic and fast-growing family business has sworn by natural elements such as light and air since 1909, which – when cleverly used – form the basis of a healthy living and working environment for everyone. Renson anticipates the future by significantly investing in innovation, communication, and internationalisation, while continuously focusing on a healthy, comfortable indoor climate and enjoyable outdoor living in homes, apartments, offices, schools and healthcare institutions. Its emphasis is on sustainable and aesthetically integrated overall concepts that set high energy efficiency, acoustics, and design standards.