Acquisition offers Renson new opportunities Down Under
The acquisition of Issey Sun Shade Systems in Perth means Renson will be starting production of windproof Fixscreen sun protection fabric in Australia in 2022. With this, the Belgian family business – after recently opening production sites in the USA and China – is taking another step towards achieving its international ambitions as a global player in sun protection, ventilation, and outdoor living.
Faster delivery, closer to the market
"The long delivery times for screens travelling by boat from Belgium have been unjustifiable for some time now," says Paul Renson (Renson CEO). "This is the reason we started producing them locally in the USA and China as well. Now it is Australia's turn; it's a region we've identified as offering plenty of growth potential for sun protection fabric."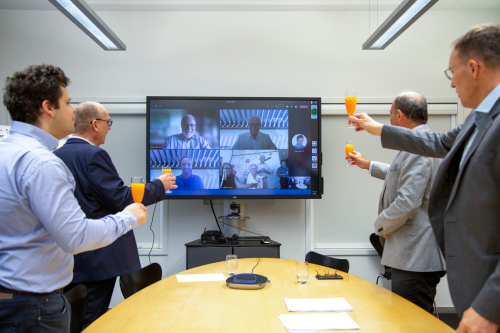 Not that Renson hasn't already been busy in Australia. There were already two commercial representatives Down Under. They reported strong interest in Renson's high-end outdoor living products. These are custom-made – and will continue to be so in the future – at the new production site in Belgium and shipped worldwide, including to Australia. But Renson had already spent quite some time looking for opportunities to locally produce the less investment-sensitive products from the Renson range, such as Fixscreen sun protection fabric and the Algarve patio cover. This was in response to a requirement to supply the Australian market faster and in a more targeted way, as well as to be able to respond better to specific, local needs and service.
Same DNA
The opportunity presented itself in the form of Issey Sun Shade Systems, a family business from Perth with 30 years of experience in outdoor sun protection, and where the next generation saw no gaps in the succession. "Our product vision is very close to Renson's," explains Lane van den Akker (Director of Issey Sun Shade Systems). "Like Renson, quality is at the top of our priority list, while technically, our products are actually very close to those of Renson. Only the best is good enough. In any case, our customers are happy with the acquisition by Renson and look forward to a strengthened position in the Australian market."

"In terms of DNA, there was an immediate match: Issey's drive, along with their operational and technical knowledge, matched the Renson values perfectly," says Paul Renson. And even though the company is located in Perth on the Australian West Coast and the greatest market potential is on the East Coast, the advantages easily outweighed the disadvantages. The time difference between east and west coast provides a few extra hours for collaboration with Belgium, while a delivery time of three days from Western to Eastern Australia is significantly better than the two months by boat. A nice bonus is the strong name Issey has built up with architects over the past 30 years, a target group also highly regarded by Renson. And with a strong distribution network in all the major Australian cities (Adelaide, Melbourne, Perth, Sydney, Brisbane), this acquisition gives Renson the opportunity to double its local distributor network.
Next step in global internationalisation
With production sites in the USA and China, Renson is now taking a major step forward in Australia to improve its response to the local sales market by using local production. This new acquisition is strategically important if Renson wants to be able to act quickly in Australia. It is just as important that Renson also benefits from this in terms of logistics.
"There is currently a lot of progress in Australia regarding ventilation legislation, so we're also seeing new opportunities in this field as well," says Paul Renson. "And of course, the local production of screens is also a great stepping stone for potential new outdoor living partners. Thanks to this acquisition, we are doubling our turnover of the entire Renson Group in Australia in one fell swoop, but the ambition is to increase it fivefold within five years.
Local anchoring
According to Paul Renson, "Local anchoring is two-pronged for Renson: with the bulk of the production carried out in Belgium, we can continue to meet the high quality Renson stands for as a brand. But we cannot expect to continue to deliver worldwide from Europe forever. So, for me, local anchoring is also being active close to your sales market. This also creates mutual trust. 'European design and technology, assembled in Australia': this catches on locally, and we'll play it out that way."