Ideal a fresh home by the sea
In 2019, the Tielemans family had just received the key to their new home in De Haan when they were knocking on the door of a Renson Ambassador to have their windows fitted with sun protection fabric. Unfortunately, it had not been included in the new-build show house, which had been built several years earlier, but the residents knew it would come in handy.
Because of the houses' region and orientation, the owners already knew that the sun shines freely on the southeast-facing windows. And after their positive experience with Renson's Fixscreen sun protection fabric in their previous home, the choice for outdoor blinds was quickly made. However, there wasn't any electricity available to connect and operate them.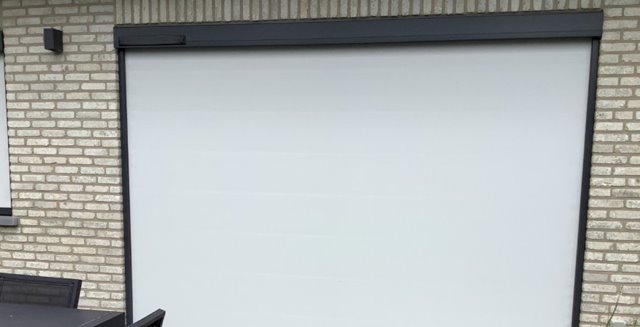 Fixscreen® using solar energy
"Fortunately, our installer suggested installing solar outdoor blinds. The installation of the Fixscreen Solar did not even require any cutting, drilling or demolition work, and no electricity had to be drawn either," says resident Evelyne. As a result, the two outdoor blinds in the kitchen and the sliding window at the back, together with the 3 blackout outdoor blinds on the bedroom windows of the upper floor, were installed faultlessly in barely one day. Just in time for the first summer in their new home.
"The installation of the outdoor blinds was completed in less than a day... without any cutting "
"Since then, we have fitted the same Fixscreen Solar to another window on the side because it allowed heat from the sun to heat the room considerably during the summer as well. Since then, it has been three to four degrees cooler inside on hot days, and even six to seven degrees during the heat waves; that is, if I lower the outdoor blinds early enough and leave them closed all day, along with the windows and doors. It's a golden piece of advice to prevent the sun from reaching the glass and making it too hot inside. Something I learned in our previous home."
Wind resistant, transparent and custom colour choice
Evelyne has already experienced several times that the wind always blows a little harder at sea. "And so I am all the more pleased with the quality of the outdoor blinds," she says. According to her, the fact that you are not sitting in the dark inside on hot summer days, even with the sun protection fabric down all day, is also a nice bonus. What is striking here is the light colour of the fabrics in combination with the fabric box and side guiding channels. And she offers a tip she got from her installer: match the colour of the fabric as closely as possible to that of the façade brick. The aluminium components of Fixscreen Solar are finished in the same RAL colour as our windows. I am very happy with that choice because it makes the outdoor blinds stand out the least, whether they are up or down.