The Renson Fixscreen Minimal ensures it will remain nice and cool next summer. It's particularly good if you want to equip 'minimalistic windows' with subtle outdoor solar shading. After all, they are the most efficient solar shading. A satisfied owner from Ghent (Belgium) testifies.
Summers seem to be getting warmer, and naturally you want efficient solar shading to keep the indoor temperature as pleasant as possible. If possible, it would be nice to enjoy a type that matches the appearance of your façade and home. Renson's Fixscreen Minimal outdoor solar shading has these properties; the windproof outdoor blind keeps it nice and cool inside, and the inconspicuous fabric box and side guiding channels that extend to the window are kept to a minimum. That's is what often stops people from equipping existing windows with fabric sun protection fabric. How do you really like Fixscreen Minimal now you have it fitted to your home? The Roef family explains.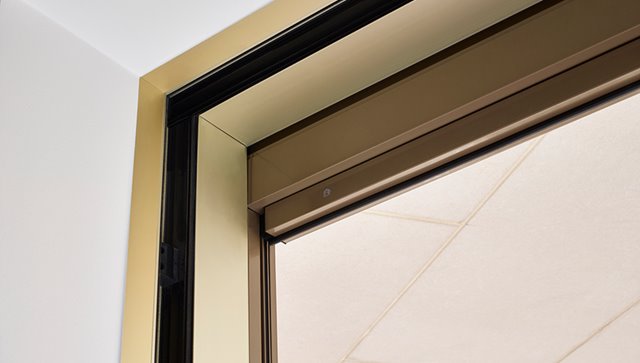 Very warm in the apartment
The Roef family moved to a new apartment in the heart of Ghent some time ago. The apartment is oriented to the south, which means the sun shines into the kitchen and living room from 11 o'clock in the morning until 8 o'clock in the evening.
"Our previous home had solar shading, and we always had a good experience with it."
André Roef: "Of course that sounds great, but with a warm summer like last year, that's not always ideal, to say the least. At times the heat indoors was unbearable. In addition, we don't have air conditioning in the building, so we have to keep the sun away from the windows as much as possible. The apartment did not have solar shading when we moved in. We did in our previous house, and we had good experiences with it. It really made a big difference to the indoor temperature on hot days. We quickly realised that we needed it here as well."
In their search, the residents came across the Renson Fixscreen Minimal. "The slender elegance of the Fixscreen Minimal, without a large fabric box was the deciding factor. In their fairly new, modern building, this type of solar shading was an ideal solution without compromising the large windows with slim profiles.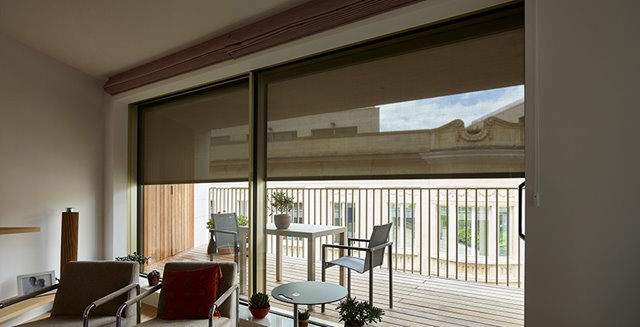 Looking for the right colour
Roef: "We were very curious about the result, especially considering the outdoor blinds were not available in the specific champagne colour of our window frames. Luckily, everything was done to find a good match and that was much appreciated. We chose a RAL colour that is very similar. And if you take a look from a distance, you think it's exactly the same colour." And the solution acted as an inspiration for others. We got a few questions from a number of our fellow residents of the building, and now the type and colour are even registered in the house rules.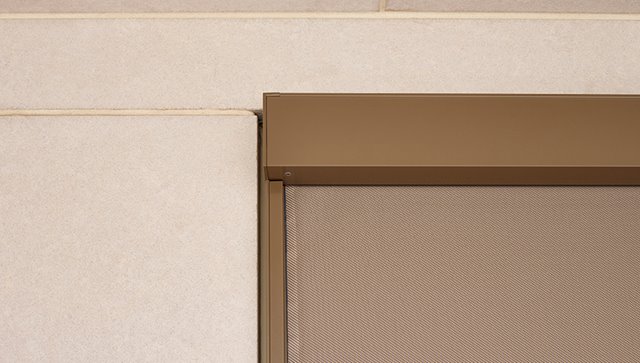 Meanwhile, the outdoor blinds have been excellent in terms of function and aesthetics. "You definitely notice a difference in terms of heat in the house. Initially, we had the outdoor blinds installed in front of two large sliding windows. Since then, we also had a screen installed in front of another south-facing window. I hope and expect that we will really notice the difference next summer."
"Our house rules now include a provision that – if residents want to install solar shading screens – this type and colour must be chosen."