If we look back next year and have just one thing to take away from this strange spring and somewhat out-of-the-ordinary summer of 2020, it will probably be "It's a shame that our trip didn't work out, but at least we were lucky enough to have our garden". After all, your garden offers you just as many, if not more, possibilities than a holiday. This is certainly true if you have a Renson patio cover or a modern garden room …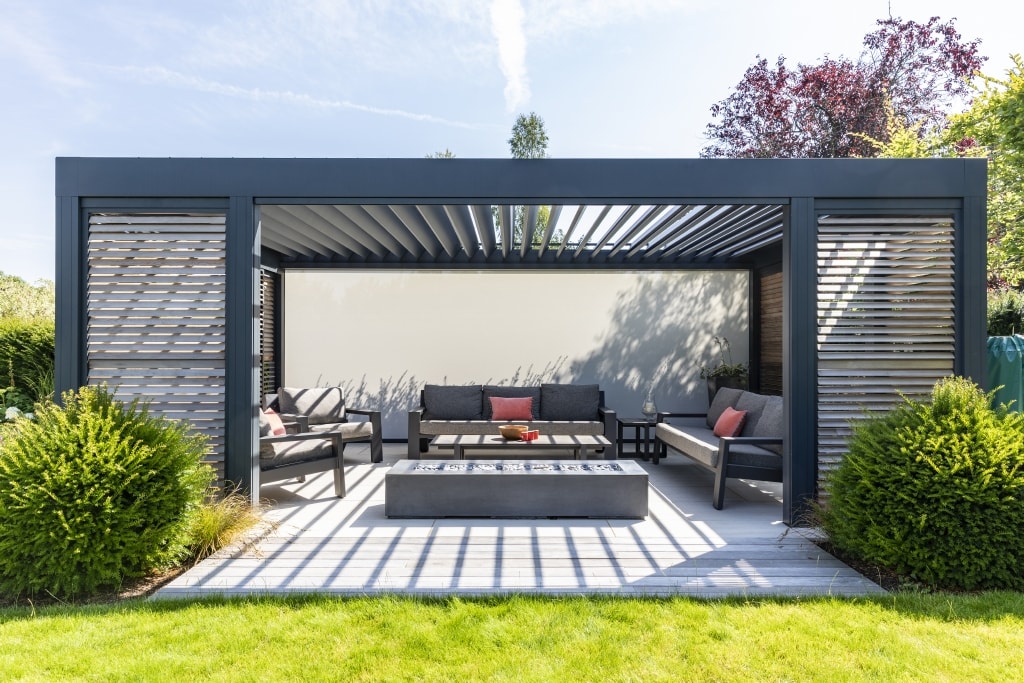 A Renson pergola invites all the comfort and luxury of your home outdoors. A patio cover is really a match made in heaven between indoors and outdoors. The sheer versatility of a patio cover gives you unlimited options, from a cool garden room that is perfect for outdoor physical activities to a stylish place to meet members of your coronavirus support bubble.
Outdoor living rediscovered
It's no coincidence that the prices of homes with a garden have shot up, as the COVID-19 crisis has taught us how to appreciate our gardens more than ever. When you spend time in the garden, you have a moment to recharge your batteries and get back in touch with yourself. It is a mindful moment that lets you forget all of the stresses of Skype calls and homeworking. Basically, outdoor living is pure enjoyment. A recent study has confirmed that an hour of outdoor activity is not only good for our psychological wellbeing, but it also brings physical benefits too.
Enjoy the outdoor air under the luxury and comfort of your patio cover
This is precisely the reason why we develop patio covers. Our patio covers let you enjoy outdoor living with the same level of comfort and luxury that you're used to indoors. The adjustable louvres on the Renson Camargue (a pergola with louvered roof) and the Camargue Skye (a pergola with retractable roof) provide shelter in all weather conditions. If you would like to feel the sun on your skin, open the louvres and be enchanted by the magical light that will slip through your patio cover. If a summer rain shower appears, close the louvres so that your outdoor furniture stays bone dry and you don't have to dash indoors. If you add glass walls or screens and a heat & sound beam, you can also use your patio cover in colder or windy weather.
A Renson® garden room is perfect for outdoor activities
Whether you love physical activities, or you prefer a cheeky slice of cake with your coffee, you can do all of this under a Renson patio cover. You can even turn your pergola into a modern garden room with the right outdoor furniture and the necessary fittings. Yes, we do mean a garden room, as a patio cover is really an extra room attached to your home, the difference being that it allows you to enjoy the deliciously good fresh air outside.
You will enjoy this incredible experience even more if you can also share it with your family or friends. Invite them along for a tasty dinner or aperitifs with refreshing cocktails, or to catch up on the latest news and gossip under your patio cover. You'll find everything 'airier' and more relaxed outdoors. If you need to get the conversation flowing, you could even show them the features of your Renson Camargue or Camargue Skye. We're ready to bet that everyone will be curious and will want to control the RGB LED lights in no time at all.
We create magical experiences that people will talk about for weeks or even months to come. Renson, where magic happens.