Having a patio a bit further down in the garden and not attached to the house may seem a crazy idea at first. Still, more and more people opt for a
freestanding pergola
complete with
patio cover
to get the most out of their garden while entertaining or kicking back with a good book or two. Find out why a detached patio cover is an added value for your garden.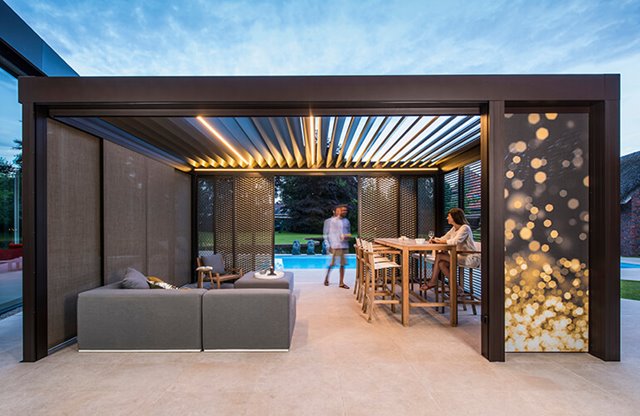 Is installing a detached patio cover always a good idea?
Why settle for a regular outdoor sitting area if you can have one with a roof? What's more, a detached covered patio transforms your backyard sitting area into a full-blown patio. A place for you to relax and enjoy the fresh air despite the rainy weather – or without the heat of the sun burning your skin.

Having some distance between your patio and your home has both its pros and cons. While you get to enjoy more peaceful and secluded surroundings, fetching those drinks from the kitchen will take you a little longer. Unless you're the lucky owner of an outdoor kitchen, of course.
Side structures for creating a garden room
If you want to be able to enjoy your detached patio all the time no matter the weather, upgrading your patio cover with side structures is a great idea. Sheltering you from the wind while still providing you with an amazing view, your patio suddenly feels like a outdoor living room. And there you have it: even though it's detached, your patio has become a real addition to your home. You can even use it as a hobby room or as a special children's corner.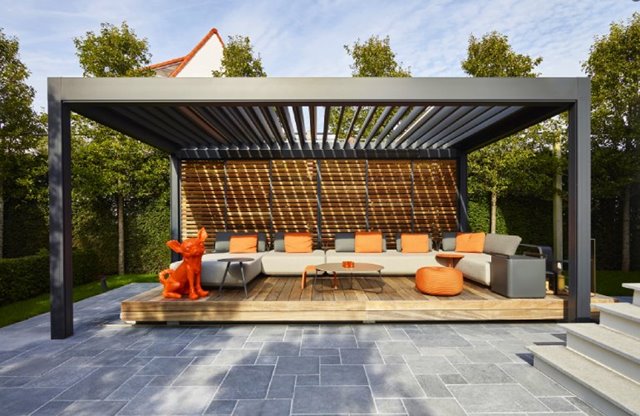 Different types of patio covers
There are plenty of patio covers for turning your detached patio into a real eye-catcher. Check out the following models:
Algarve is a sleek-looking patio cover with louvres. Screens can easily be added for extra protection.
With the Camargue louvered pergola, the possibilities are virtually endless – both in terms of side structures and accessories. Think heating options, glass walls and trendy LED lighting.
The Camargue Skye is a louvered pergola with retractable roof, making it easier for you to adjust to the weather conditions.
Can't wait to enjoy your very own detached aluminum pergola?