Cooling your home without air conditioning? Discover our tips!
Do you remember just how overbearingly hot it was last summer? There's a good chance we're in for another summer just like that one… Judging by the number of warm, sunny days, the chance is definitely there. Our air conditioning systems will be working overtime once again, But what most people don't realise is that air conditioning is part of the problem. Which is even stranger because you've got a natural and highly effective solution at hand in the combination of screens and night cooling. In this article, we explain how to cool your home or bedroom without air conditioning.
SUMMERS ARE GETTING HOTTER
The number of hot days per year is increasing and summers have become noticeably warmer in recent years. Last summer, however, we suffered a series of heat waves with temperatures skyrocketing wildly. Scientists suggest that we will face heat waves in one out of every two summers in the near future.
Not only are the temperatures outside becoming unbearable, even coolness is becoming increasingly scarce inside. The main reason is that we are getting better and better at insulating. That we build energy-efficiently benefits the energy bill, but it also comes with disadvantages.

One of the main ones is overheating. Heat enters through the windows, but – because of the insulation – cannot escape back outside. Once the heat is in, it stays trapped there for days.
AIR CONDITIONING: SOLUTION OR CAUSE?
A lot of folks started looking for a solution after last year. Air conditioning systems sold like hot cakes. This makes a certain kind of sense, since we were (and still are) being bombarded with messages about this. What many people don't know, however, is that these systems are partly at the root of the problem.

Air conditioners do make your house cooler, but they also expel that warm air right back into the air outside. This makes the appliances real energy guzzlers. This not only makes them expensive, but also accelerates climate change. For example, running an air conditioner on full blast consumes as much as three irons. This in turn causes more and more heat waves to occur. Thus becoming a vicious circle. So an air conditioner is only a short-term solution against the heat. Fortunately, there are also ways to cool down your home without air conditioning.
However, with automated outdoor blinds combined with proper ventilation of your home at night, you have a low-energy solution available to keep your home cool during the day too. Heat, as mentioned, enters your house through the windows because they are heated by the sun. By installing screens, you ensure that the sun cannot reach the windows and therefore cannot enter your home. For example, screens can result in a temperature drop of up to 10 degrees.

If you then leave your screens down in the morning, you can enjoy a cool home all day, without feeling completely enclosed thanks to the transparency of the fabric.
Furthermore, to ensure that no heat remains trapped in your home, it is also important to properly ventilate your home at night with wonderfully cool night air. Because everyone likes to keep burglars and mosquitoes out, we have developed night cooling louvres. They carry fresh air in at a high flow rate, but a mosquito net and a finish with aluminium blades keep thieves and mosquitoes out. This can result in a temperature drop of up to five degrees.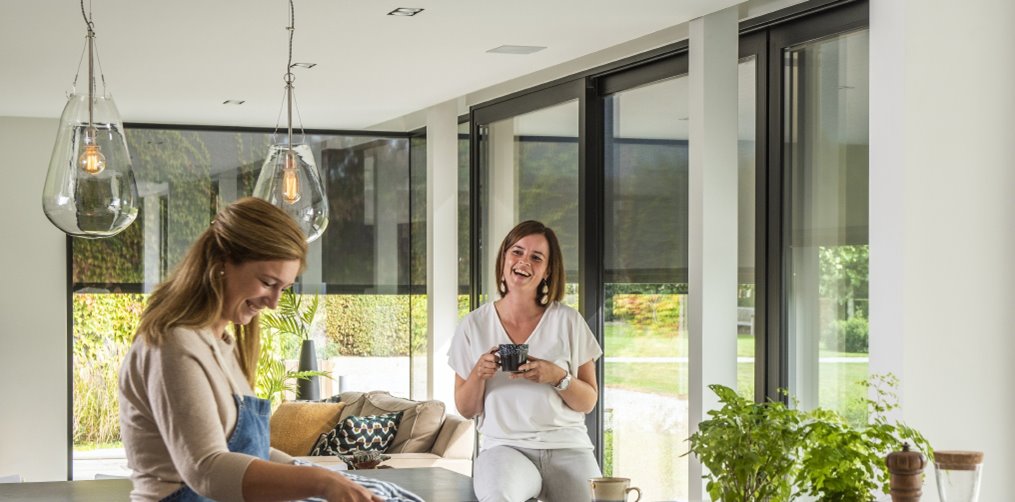 A COOL HOUSE DURING THE NEXT HEAT WAVE
Are you on the lookout for a solution to keep your home nice and cool all the way through the summer months? Or do you want to prepare for the next heat wave? A combination of
Renson®'s electrical screens
and
night cooling
system offers an energy-efficient and natural way to do exactly that.