Curtain wall and sun protection: The ultimate match for a '100% Belgian façade'
Avoiding overheating – especially in terms of the large glass surfaces of curtain walls – was the catalyst that inspired Reynaers Aluminum to team up with Renson® to search for the ultimate product combination of curtain walls and sun protection. These two Belgian businesses joined forces on the Reynaers Aluminum ConceptWall 50 and Renson® Fixscreen® Minimal Curtain Wall 50. The result is an exhaustively tested Belgian total solution that makes life easier for everyone involved in the construction process, from architects to installers to clients.
An aesthetic total solution
Combining these innovations coalesces them into an aesthetic total curtain walls solution that is easy to install, but doesn't lose sight of the details. They come together seamlessly due to the perfect alignment of the façade and sun protection profile detailing. The combination is simply finished with the preferred Reynaers ConceptWall 50 cover profile.. This joint development reduces the total number of required profiles to only 3 pieces instead of 5, i.e. the Reynaers Aluminum cover profile and base couple guide and the Renson® coupling side guiding channel.
Thoroughly tested and easy to install
This product combination was subjected to extensive testing procedures (including pressure tests) by the Renson® and Reynaers Aluminum Research departments. The co-development was also assessed and tested backwards and forwards, e.g. in terms of mutual fixations and profile sagging under extremely high pressure. Based on these test results, both the system guarantees and the possible applications were coordinated, ensuring the highest quality and warranty. In terms of wind resistance, this combination also retains the Fixscreen® Minimal's wind guarantee of up to 130 km/h. What's more, this total solution is quick and easy to install. Not only is there less screwing with just 3 profiles instead of 5, but now that everything is perfectly matched and has been tested as a consolidated solution, the installer is no longer forced to hunt for a suitable solution.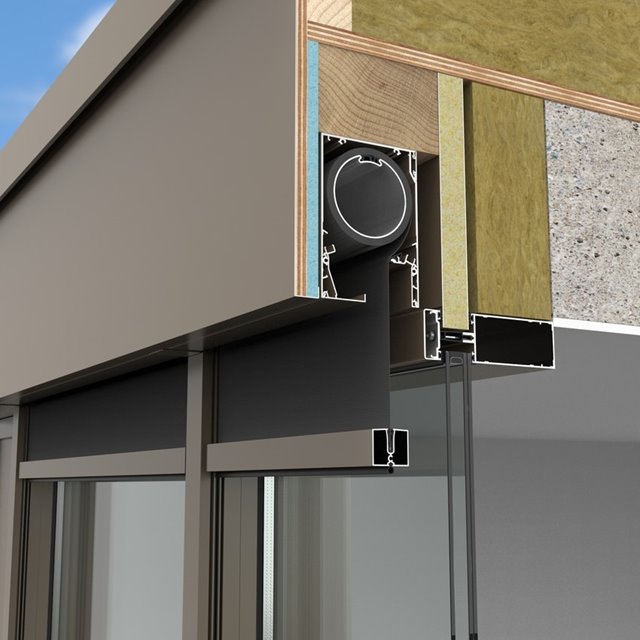 Fixscreen® Minimal Curtain Wall 50
With its minimalist look, the Fixscreen® Minimal Curtain Wall 50 is a perfect match for curtain wall design. This solution takes thermal expansion into account and is infinitely joinable as a result. The coupling side guiding channel of only 50 mm (as wide as the ConceptWall 50 window profiles) guarantees central fixation to the curtain wall, preserving the integrity of the curtain wall.
Reynaers Aluminum ConceptWall 50
Concept Wall 50 is a façade and roof system that guarantees unlimited design freedom and maximal transparency. As an innovative solution, it meets all the technical and design requirements of contemporary architecture using large, thick and heavy glass panels weighing up to 700 kg in combination with parallel opening windows, pocket windows or tilt & turn windows.
For more info, please visit:
Fixscreen Minimal Curtain Wall 50