Renson® wins the Henry van de Velde (Gold) Company Award '22
At the official presentation of the Henry van de Velde Awards in Brussels, Renson® was declared winner of the 'Company Award'. According to the jury, the Waregem-based trendsetter in ventilation, sun protection and outdoor living owes this award to its unceasing drive to innovate and apply the art of functional design to make our homes and workplaces both healthy and comfortable.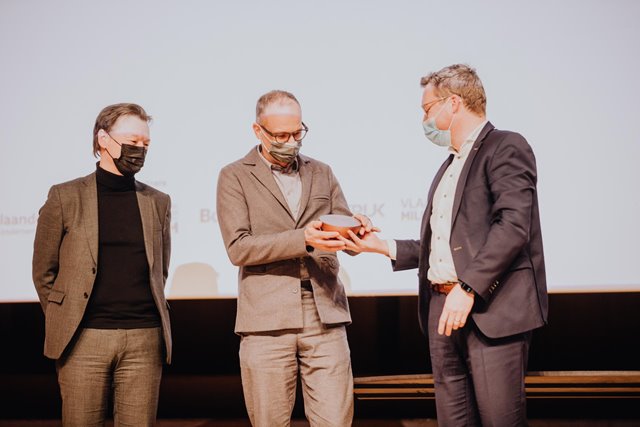 Twenty years ago, CEO Paul Renson came up with the baseline 'Creating Healthy Spaces'. Concretely translated into three pillars – sun protection, ventilation and outdoor living – it has proven to be a visionary philosophy that has made Renson® a global player. Under Paul Renson, this family business has developed into a knowledge company in which 110 of its 1200 employees work in the R&D department.

"Even with ten per cent of our staff employed in R&D, we still do not have enough capacity to implement our ideas. Every innovation has added value for the market", Paul Renson, CEO Renson®.

Today, Renson® exports to 83 countries and has employees worldwide. Most of Renson®'s products are made entirely in Belgium. Design is structurally deployed to integrate technology invisibly and seamlessly into homes, outer walls and gardens. Our range includes window vents, minimalist sun blinds, internal door frames and hinges, and outdoor living spaces. "In other words, design elevates a purely functional product to a higher level, so that it is also easy on the eye. For me, winning this award is proof that we are on the right track," said Paul Renson.
"In recent years, Renson® has developed into a knowledge company that develops total concepts that guarantee a healthy indoor climate, something that is particularly relevant nowadays," said the jury. "Innovation is central; Renson® cooperates with external design agencies and architects and calls upon the expertise of other leading Flemish companies. The results is design that is not only beautiful but also smart. Design that is successful on a global level."