Multifunctional complex with historical roots
Renson made windproof outdoor blinds of unprecedented dimensions – no less than 36 m² – for the exclusive Gare Maritime project, which is part of the Tour & Taxis site in Brussels. Renson Ambassador Suncomfort installed the sun protection fabric at a height of 13 metres. A true feat!
In the 1900's, Gare Maritime was a freight station and is now part of the Brussels Tour & Taxis site, which used to be one of the largest hubs in the world for the transport of goods by rail and waterways. In 2015, the site was acquired by real estate company Extensa, which decided to renovate the old buildings. The old Gare Maritime station is now being repurposed as a multifunctional complex with 30,000 m² of offices (10 separate new-build volumes) and 12,000 m² of retail and commercial space.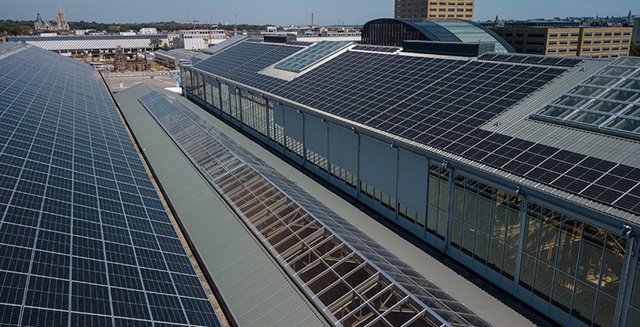 An exceptional assignment
The renovation of the building takes into account the unique view and the original building structure. There is a steel support structure every 12 metres. The space between the structures has huge glass sections that provide natural light in the building. Outdoor blinds were installed to prevent overheating in the summer. To preserve the sleek view and to limit costs, Extensa wanted a 1-piece outdoor blinds that could bridge the windows. No other manufacturer could offer a solution for this, and so Extensa came to Renson.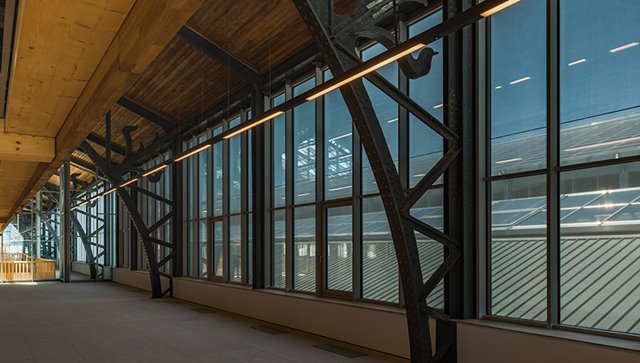 1,750 m² outdoor blinds
With its extensive expertise with large outdoor blinds, Renson Extensa was able to offer a solution to span the windows with two 6-metre wide outdoor blinds. Renson's outdoor sun protection fabric has been installed on both 280-metre-long "internal façades". This requires a total of 1,750 m² of fabric.
Each façade has 5 modules of 6 outdoor blinds each. The largest is 6 metres wide and 6 metres high and is affixed 13 metres above the ground. The size and height required tailor-made outdoor blinds with, among other things, special motors and fabrics that can handle very large wind loads. The outdoor blinds were installed by our Ambassador Suncomfort.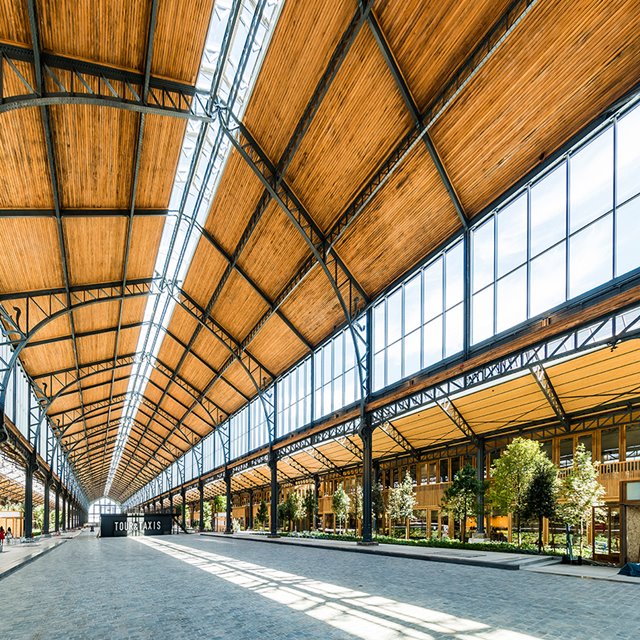 Creating a healthy and comfortable indoor climate
The ecological footprint is also important in this project. Both Extensa and Renson believe in natural solutions to create a healthy and comfortable indoor climate. The giant glass windows would allow the inside of the building to warm up like a greenhouse if there was no solar shading. By choosing Renson sun protection fabric, sunlight is prevented from reaching the glass and heating up the interior. This is not a superfluous luxury given the heatwaves we have experienced over recent years.